First Round of Applications Open for 2021 AIE Incubator Grant Funds
The first round of funding applications for 2021 is now open for teams that completed the Graduate Diploma in 2020. Earlier this year the AIE announced its pledge to support the development and commercialisation of games and other interactive digital content for participants in the Incubator Program.
Applications can now be submitted via the application form on the AIE Incubator Website. This round closes at 10am on Monday 11th January 2021.
The Incubator Grant supports post-graduate Graduate Diploma students by providing ongoing assistance and funding to successfully operate and grow businesses in form of direct financial funding, provision of studio amenities and/or provision of workspaces and equipment. This unique opportunity enables creatives (in relevant states) to access further networking and corporate opportunities harnessed by sister company Game Plus in addition to directly supporting the ongoing operations of your studio.
As an industry leader and non-profit organisation, AIE is committed to the further education and upskilling of emerging creatives within Australia. The Grants Fund provides a financial runway for creatives to realise their dreams and contribute toward the greater economic narrative games has to offer.
To apply for the first round of the AIE Incubator Grants Fund you must have completed the Graduate Diploma Program in 2020. Applications will be reviewed by a delegated panel who will assess each application.
For more information, check out the AIE Incubator Website.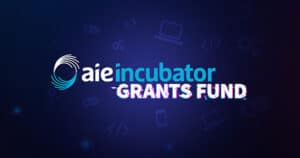 The Academy of Interactive Entertainment (AIE) is announcing the creation of the AIE Incubator Grants Fund which will ...