Angela Sae-Lam is another award-winning AIE graduate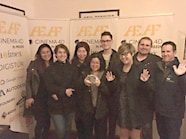 Another award-winning AIE graduate, Angela Sae-Lam stopped by AIE to give her support to those soon to be graduating 3D Animation & VFX students and told us a little about her time since leaving AIE. Angela graduated in 2017 from the Advanced Diploma of Screen & Media after an extreme change from her Double Degree of Science and Arts and a year of Honours.
Angela and 2017 AIE team recently won Silver at the Animation and Effects Awards Festival (AEAF) for their second-year major project, "Corporate ladder". The short 3D animation film gave Angela a chance her strengths in character modelling, texturing, compositing, scene assembly and project management.
After graduating, Angela became a volunteer at the CG Futures; a weekend of live demos and masterclasses in Melbourne where she was exposed to industry guests from Australia and overseas. This helped her with her 5-year plan "to relocate overseas to experience different settings and meet different people".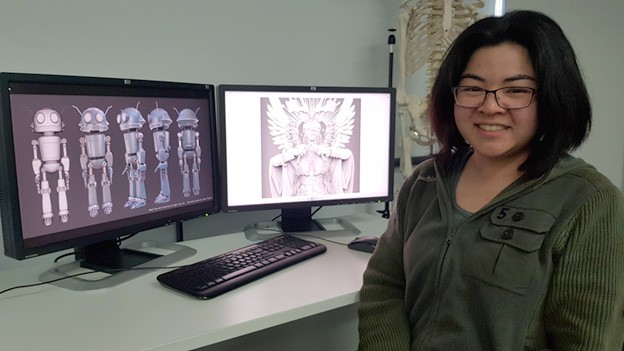 Angela then got a full-time paid 3D internship position at Buck in Surry Hills, Sydney. There, Angela could focus on just 3D modelling and texturing, allowing her to get experience and understanding of the studio pipeline. "Their pipeline closely resembled what we were taught at AIE making it an easy transition."
Angela found out about the internship opportunity through her teacher at AIE. After applying with her showreel, she was asked to come in for an interview with their lead 3D modeller and head of CG who were very impressed by how professional her work looked, and she got the position.
Before attending AIE she completed a Double Degree of Science and Arts and a year of Honours but realised this wasn't for her and became determined to make a career out of what she really loved, art. She researched around many colleges but after dropping into AIE Open Day and "Industry wise AIE is more geared towards practicality", she knew this was the place for her.
Angela decided to apply for the AIE intensive course "because it challenges you to see how committed you are to the discipline". At her interview she showcased traditional illustrations and digital paintings and was accepted on the spot.
Angela has now recently finished at Buck with another internship lined up, this time at Plastic Wax after she entered the rookies earlier in the year.