AIE CEO Wins Vocational Education and Training Award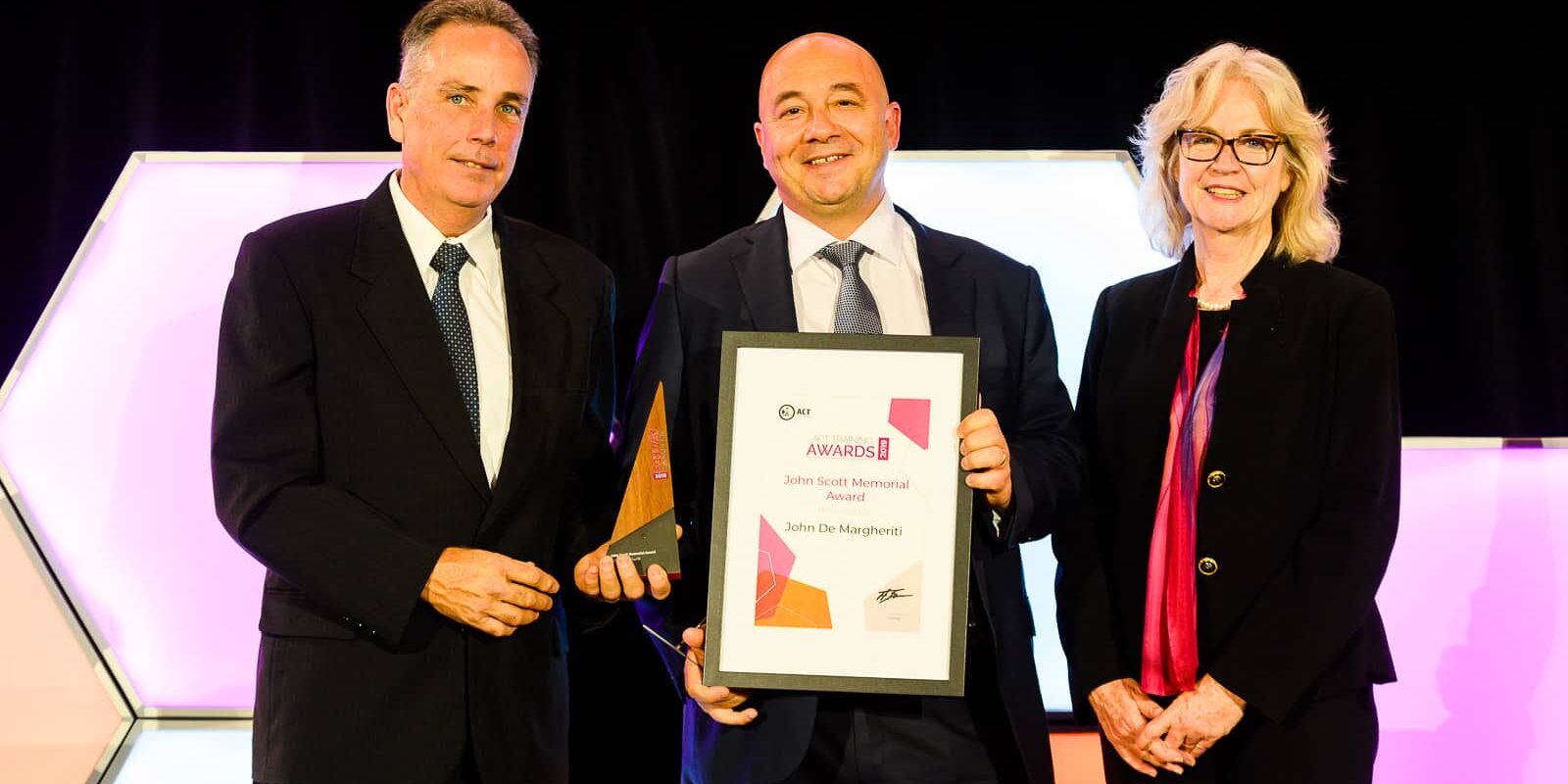 At the 2019 ACT Training Awards on Thursday 12th September, AIE CEO and Founder, John De Margheriti was awarded the John Scott Memorial Award for his contribution to vocational education and training in the Australian Capital Territory (ACT).
John's contribution to training and development of the ACT's interactive entertainment sector is significant. In addition to his achievements with Micro Forte and BigWorld (the technology that runs some of the world's biggest online games) he anticipated the importance of education and training to the future of the industry.
After co-founding veteran Australian game development studio Micro Forte Pty Ltd in 1985, John set out to establish the world's first vocational training institution that would specialise in supplying industry-ready artists, programmers and developers for the creative digital industries. The Academy of Interactive Entertainment (AIE) was established in partnership with the Canberra Institute of Technology and the ACT Government in 1996. In 1998, John incorporated AIE as a not-for-profit, vocational training provider, providing benefit to the video games community and putting profits back into developing the local industry
John says that the key reason for establishing AIE was that "I would have appreciated if someone had helped me along the way with my own journey and made it a little bit easier."
I have a strong desire, not just to provide students with education and skills but also encouragement and industry guidance, so they can realise their dreams.
 – John De Margheriti
AIE's campus was strategically co-sited with Micro Forte, in its current location at Canberra Technology Park in Watson, and has been producing top quality, industry ready graduates ever since. In 1999, John launched the first Australian Game Developers Conference and founded the Game Developers' Association of Australia in the same year.
Today, AIE has campuses in Canberra, Melbourne, Sydney, Adelaide and online, as well as sister schools in America in Seattle and Lafayette. The AIE is recognised as a leading vocational training provider for game development and 3D animation.
AIE campuses are heavily integrated with local businesses, with co-working spaces at their Canberra, Adelaide and Sydney Campuses. Businesses within these co-working spaces benefit from work-ready AIE graduates and internship opportunities. In September 2012 John launched Game Plus, a co-working space for game development companies, co-located at AIE's Canberra Campus, greatly assisting the ACT game development business sector.
The John Scott Memorial Award was introduced in 1999 and is presented in recognition of an outstanding and extensive contribution by an individual in vocational education and training in the ACT business sector. This Award is presented in memory of John Scott's contribution to vocational education and training in the ACT. Mr Scott had a long and distinguished career in the Royal Australian Navy before moving into the private sector and chairing the Business Training Advisory Board (ACT). Mr Scott reinvigorated the relationship between industry, their advisers and the ACT Government.