Filmmaking and VFX Foundations
Certificate III in Visual Arts CUA31120
Film and Visual Effects Foundations is designed to introduce the students to the many entry-level career opportunities for creative professionals, film production crews and post-production artists. This course gives students an understanding of the creative potential of the processes and tools used in the film production and post-production industries.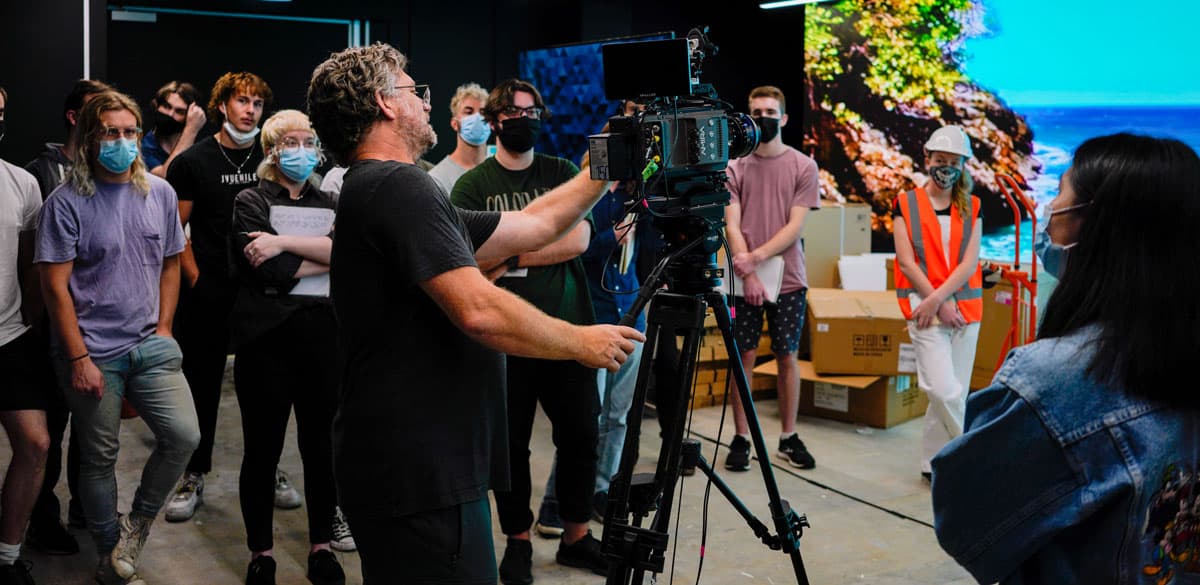 The course covers the fundamentals of film production and post-production including:
Story and script development
Storyboarding
3d Pre-visualisation and shot planning
Using cameras, lighting, and other film equipment
Working safely on film sets
Editing
Compositing
Sound editing (conducting ADR)
The course is focused on learning how to create a short screen production based on a brief. Students will develop a concept, write a script, create storyboards, and edit together an animatic (a moving storyboard).
After learning several editing and compositing based VFX techniques, students will then plan the live shoot through the creation of a 3d visualisation of the shooting environment and action. Students will get hands on experience of assisting with camera shoots on a live set. This will include acquiring all the knowledge on how to use digital video cameras and conduct oneself safely on a live set. Finally, students will perform the compositing, editing and other post-production processes needed to create the final film.
Film and VFX Foundations serves as a valuable bridge to further study in film production, visual effects, and post-production.  Graduates leave with a portfolio of work, knowledge, and skills useful in many other multimedia and design areas.
Course Fees and Start Dates
Please see course start dates and associated fees below.
Please note: VET in School students should see their school's VET Coordinator for fees.
Commencing 20th Feb 2024

2024
5:00 pm - 8:45 pm | Tues, Thu session
2 x evening sessions per week (1 week term breaks aligned with ACT holidays)
Year

10,

11 and 12: $2495
---
Courses fees include a non-refundable enrolment fee ($65).
Commencing 6th Feb 2024

2024
5:30 pm - 8:30 pm | Tues, Thu session
2 x Evening sessions per week
Year

10,

11 and 12: $2495
---
Courses fees include a non-refundable enrolment fee ($65).